Story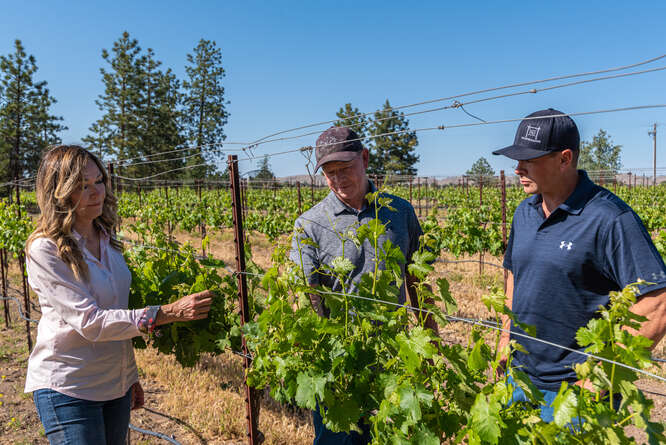 Chateau Margene, now in its 24th year, began with the fulfillment of a dream by Michael & Margene Mooney to plant a vineyard, build a winery and establish their home in the Paso Robles area in 1997. The family took up residence on the property in the Summer of 1998 (where they still live today) and planted the estate vineyard in the Fall of 1998. Annual production varies between 2,500 – 3,000 cases annually, depending on Mother Nature and crop loads each vintage. The mantra is "quality over quantity". The two vineyard blocks on the estate are Stella's Vineyard (named after Margene's Mother and their grand-daughter - Jon's daughter), planted in 2014 to two clones of Cabernet Sauvignon & Cabernet Franc. The front vineyard, Michael's Vineyard, is named after Michael & Margene's older son and their grandson. Varietals planted are Cabernet Sauvignon, Cabernet Franc, Merlot, Malbec & Sangiovese. The farming practices are organic and sustainable with Michael managing the vineyard and overseeing the winemaking with son Jon. Margene runs the day to day business and is the winemaker for their Cabernet Franc. The wines are primarily sold DTC (direct-to-consumer) and are available at their two tasting rooms or as a wine club member. A few of their favorite local restaurants receive an allocation.
The Mooney Family label was started in 2004 with purchased grapes from growers in the Santa Lucia Highlands and Sta. Rita Hills AVA's. The varietal focus includes Pinot Noir & Chardonnay. Jon has a small Rhone program with the next release being the 2020 Syrah in Spring of 2023.
The ROXO Port Cellars label offers both Ruby and Tawny port-style wines. The Ruby wines are now aged a minimum of 5 years in French oak and the 2009 Tawny was aged for over 10 years in French oak. These wines are made Methodo Portuguese, which uses neutral grape spirits rather than Brandy to fortify the wine. The results speak for themselves.
El Pistolero - Michael's family history in California dates back seven generations with his great, great grandfather being deeded a Mexican Land Grant in 1842 -Rancho Canada de Los Osos in San Luis Obispo County. The grant extended from the Pacific coast along Los Osos Valley toward present day San Luis Obispo and encompassed part of Montana de Oro State Park. The wines crafted under this label include a Chardonnnay, a Pinot Noir and a Bordeaux-style blend called "Riata Red" which are offered at their Morro Bay tasting room.